Having What You Already Have
Can you allow yourself to have what you already have? During this powerful guided meal with Geneen, she demonstrates how — one bite at a time — you can let yourself take in what's on your plate and in your life. In this way, that ongoing and hard-to-name hunger for satisfaction and joy can be stilled, satisfied, nourished.
Breakfast with Geneen
Join Geneen as we sit at breakfast with food, feelings, and beliefs. During this guided meal, we learn to pay attention to our food and how it affects our mind, our body, our mood. Over and over, with each person, each situation, we keep coming back to here, now, and what's not wrong. It's a powerful time, a powerful practice.
Your Body Has a Voice
Recorded live at a retreat, Geneen explores with students what it actually feels like to have a body with arms, with legs, with a belly. When we learn to listen to and truly live in our bodies, we discover invaluable gifts: living with full body aliveness, truly knowing who we are, discovering the inherent goodness of life itself.
During this powerful two-part audio, Geneen also introduces the beginning, middle, and end of her work, including the "Aunt in the Attic" (the Voice), the Seven Steps to Freedom with Food (the Eating Guidelines), Ghost Children, and more.
About Binges
During this talk, Geneen explores why we binge and what you can do to ease your own discomfort with food and yourself. Knowing that immense peace with food is possible for you -- not just for other people -- is so very important. What could be better than learning there's nothing to hide? Than being able to feel powerful and strong no matter what you do, feel or eat? Listen, learn, discover what's possible.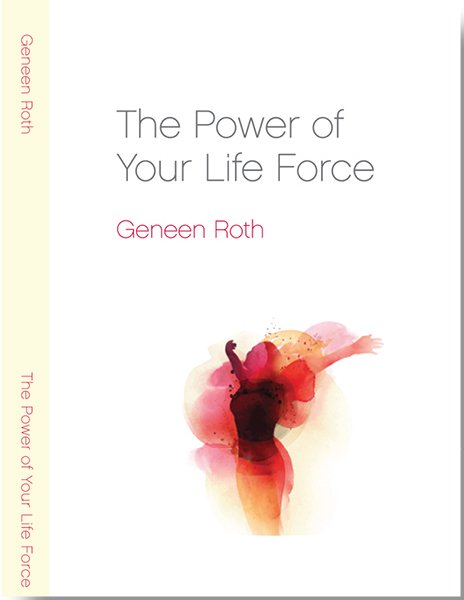 The Power of Your Life Force
During this inspiring talk recorded at a retreat, Geneen describes the path to sensing your life force -- the blaze that is powering every heart beat, operating every cell. When you honor your own life force, you connect to the very same energy in the trees, in the sky, in each bite of food. And as you embrace this blaze, you become truly alive ... in every moment.
You Without Your Suffering
In this live, powerful talk, Geneen examines the limiting beliefs and stories that are the source of our suffering with food and so many other areas in our lives. She illustrates how to question these stories and let them go. And once you experience the truth that lies beneath those stories, what is left is a life that is clear, joyful and spacious.
Lectures and Meditations by GENEEN ROTH
Geneen's work spans 30 years and follows a well-defined and reliable path of transformation, and each CD describes different aspects of that path.
On Retreat with Geneen
Geneen's six-day retreats are rare opportunities to immerse yourself in soul, body and spirit time, exploring what keeps you from committing to the promise of yourself. This album lets you experience Geneen's life-changing retreat, with daily recordings of live sessions.
Individual MP3s for instant download
Purchase Day 1: Opening: Why are You Here? $11.00
Purchase Day 2: Eating Meditation: The Practice of Conscious Eating $11.00
Purchase Day 2: Freeing Yourself from the Diet-Binge Life $11.00
Purchase Day 2: Allowing Ourselves to be Enough $11.00
Purchase Day 3: Eating Meditation: A Broken Heart Holds the Whole Universe $11.00
Purchase Day 3: Change is Possible $11.00
Purchase Day 4: Eating Meditation: Goodness Itself $11.00
Purchase Day 4: Paying Attention to Relationship and
Day 4: Creating Loveliness and Beauty $11.00
Purchase Day 5: Eating Meditation: Life is a Necklace of Moments $11.00
Purchase Day 5: It Was Always About the Love and
Day 6: Closing: Taking in the Good $11.00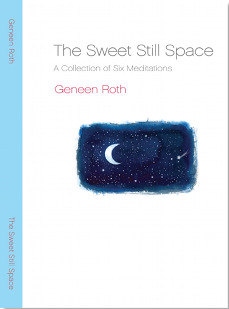 A Sweet Still Space: A Collection of Meditations
Recorded live, this series of 30-minute guided meditations is the perfect way to start or end your day as Geneen gently guides you to orient, ground and center yourself:
One: Arriving in Each Moment
Two: Allowing and Relaxing
Three: Being Aware of Your Boundaries
Four: Noticing Where Your Attention Is
Five: Coming Home To Yourself
Six: The Freedom Is Always Here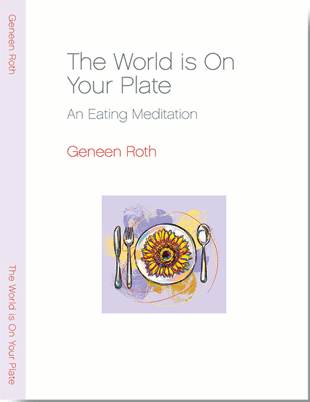 The World is On Your Plate: An Eating Meditation
Recorded live, Geneen works with the hunger scale to discover what hunger actually feels like in the body. This powerful eating meditation illustrates how to stay in the present moment, as Geneen guides you to confront the super ego, defending against and disengaging from The Voice. Learn to stop the war within ... and find peace in your relationship with food.