Geneen has recorded two audio courses, Women Food and God and If Love Could Speak: The Eating Guidelines, based on her #1 New York Times bestseller Women Food and God. Each course offers eight 90-minute sessions. Enroll now and learn from Geneen at your own pace. Transform your relationship with food and your body in ways you never thought possible
Course 1: Women Food and God
Your relationship to food, no matter how conflicted, is the doorway to freedom. The Principles course is, quite simply, a guide for your life. Over the 8-part program, Geneen outlines the basic principles and many practices that are the foundation of her program for change and transformation.
Who should take this course?
Take the Women Food and God course if you are seeing the following patterns in your own life.
Think about food or eating or your weight more often than you'd like – or worse, almost every moment of every day.
Have tried many diets, lost weight, and gained it back again and again.
Struggle with your weight, your feelings about yourself, and your relationship with food.
Use food to medicate, drown, or hide your feelings from yourself or others.
Feel hopeless about ever being free from your obsession with food, eating, or your weight. Eat when you're not hungry and don't stop when you've had enough.
Feel that there's something missing in your life that you try to fill with food.
Have trouble believing in your own worthiness.
Feel angry or ashamed with yourself because of the size of your body.
Know that there's something more to being alive but don't know how to find it.
If you think you're ready to make these changes in your life, you can start right now.
You can stop struggling.
You can end your battle with food.
Beginning here. Beginning now. Learn to use Geneen's time-tested, proven process and tools to help you achieve the goals that you desire and deserve. Turn your painful relationship with food into one of freedom, joy and peace.
---
Ready to get started?
---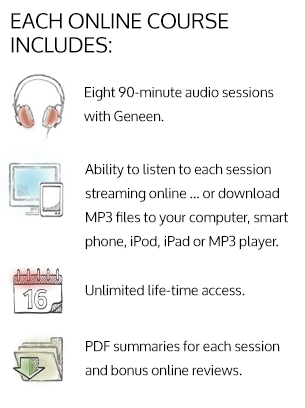 "Women Food and God is daring, dazzling, funny, comforting, wise and profoundly spiritual. It maps the journey from the darkness of obsession to the pure sense of being in prose so insightful and astonishing it left me breathless. Geneen Roth is an international treasure, and her new book is a gift to us all."– Gay Hendricks, Ph.D. author of Five Wishes and Conscious
"Geneen Roth does it again! Women Food and God is absolutely mesmerizing. And loaded with insights which can change your life." – Christiane Northrup, MD, ob/gyn physician and author of Women's Bodies, Women's Wisdom and The Wisdom of Menopause
"Women Food and God is a hugely important work, a life-changer, one that will free untold women from the tyranny of fear and hopelessness around their bodies. Beautifully written, a joy to read, rich in both revelation and great humor." – Anne Lamott, author of Grace (Eventually): Thoughts on Faith
Course 2: If Love Could Speak: The Eating Guidelines
At the heart of Geneen's work are her seven Eating Guidelines. When you learn to incorporate them into your life, you will experience moving from "possibility" into real-world results. With this Online Course, you can easily learn how to understand and use Geneen's Eating Guidelines, taking yourself down the path to wholeness and joy.
Who should take this course?
Take this course if you are seeing the following patterns in your own life.
You want to end your war with food, once and for all.
You want to eat when you're hungry – and stop when you are not.
You need to recognize and stop listening to The Voice of shame that tells you that who you are is too much or not good enough (and that ending this war with food is not possible!). Instead you will learn to treat yourself with the kindness and curiosity that will unlock your obsession with food.
You want to stop using food as a drug, attempting to medicate boredom or illness or loss of grief or emptiness or loneliness or rejection or any other feeling that you'd prefer no to be experiencing.
You feel a need to connect with life in the here and now, and understand what you are really searching for.
If you think you're ready to make these changes in your life, you can start right now.
An Invitation from Geneen
It's never been true, not anywhere at any time, that the value of a soul, of a human spirit, is dependent on a number on a scale.
No matter how sophisticated or wealthy or broke or enlightened you are, how you eat tells all. If you are a repeat dieter or someone who has lost weight many times only to discover that the happier life you thought you'd have was still missing, if you believe you can't be trusted around food or are about to give up hope of ever getting to the other side of obsession, I know how you feel. I've been there myself and know that the deprivation and tough talk don't work. Not in the long run.
I want to teach you another way, a kinder way, a way that actually works. It's not just a way to eat, it's also a way to live. The content of the Online Courses will allow you to open a door to show you how to stop punishing yourself and rediscover your own loveliness – your own shine.
Having been through this myself, I know that it can be daunting to leave your old ways behind. But I assure you that you won't look back once you've walked though that door. The most challenging part of any system that addresses weight-related issues is that unless it also addresses the part of you that wants something that you can't name – the heat of your heart, not the size of your thighs – it won't work. When we contact the part of ourselves that is fresh and alive. We touch the life we truly want. We evoke divinity itself.
Your relationship to food, no matter how conflicted, is the doorway to freedom. The self-guided Women Food and God Online Courses are, quite simply, a guide for your life. Begin now by getting started with this powerful course, and discover how to use your relationship with food as a portal to profound ease, sweet joy and, most of all, an engaged and thriving life.
Love and many blessings,
Geneen
What will I get in Courses 1 and 2?
Online access to the recordings. You get each full 90-minute recording PLUS we've separated out Geneen's Presentation, Q&A Session and Practices for your convenience.
You can listen to the audios over the Internet, wherever you are, whenever you want. Nicely formatted, easy-to-read downloadable .pdf (Adobe Acrobat) files containing an "Executive Summary" of each Class, PLUS a Worksheet to keep you on track.
Once a Student, always a Student! As a paid registrant to a Women Food and God Online Course, you'll have round-the-clock unlimited access to the course. Plus as one of Geneen's Online Course Students, over time you'll receive additional unannounced bonuses for registered Students only.
IMPORTANT: ABOUT THE "VIRTUAL" FORMAT: Please NOTE that this Self-Guided course is offered in "virtual" format only. You can listen and read your content online, and download PDFs to your computer. Remember: The program is NOT available in physical CD format.
Frequently Asked Questions
Will this self-guided online course really help me? Yes. Geneen has created this Online Course especially for YOU, regardless of where you are on your journey toward healing your relationship with food and eating. You will gain benefit from this course regardless of whether you are just discovering and acknowledging your food-related obstacles, or if you've been trying to figure out how to deal with them all of your life.
Is this course the same as the book? No. Although Geneen focuses on six of the key principles presented in her #1 best-selling book, the content of the Online Course is not simply a retelling of what she has written in the book.
Do I need to read the book first? You don't need to have read Geneen's book to start your Online Course, but it's highly recommended that you read Women Food And God after you begin so you get the full advantage of this course.
Is it really difficult? No. Although the content of this course will inform, inspire and motivate you, your life will NOT change if all you do is listen and learn. Geneen makes doing the simple Practices easy. When you hear them, you'll WANT to utilize them, knowing the difference that following her guidance will make in your life.
How quickly will this course affect my life? If you're ready to transform your relationship to food and eating and you're willing to do the simple Practices Geneen teaches you and coaches you to implement, this Online Course WILL work for you, and your life WILL change.Each person's journey is different, so there is no guarantee about how quickly you will experience your changes. Some Students start seeing results right away; others may start experiencing noticeable changes only after they've listened to all eight parts and put all of the exercises into practice in their lives consistently for some time.
How Much Does it Cost for the Online Course?
ONLY $167
You can register easily using your MasterCard, Visa, American Express or Discover card simply by clicking the "Order Now" button below.
The self-guided Online Courses are, quite simply, a guide for your life. Begin now by getting started with this powerful course, and discover how to use your relationship with food as your path to physical, emotional and spiritual fulfillment!